Benefits of Working With Us
Our employee wellbeing is a top priority for all at GPG. We offer a number of benefits to help support our people.

Annual Leave
Great holidays, 25 days annual leave.

Social Calendar
Our yearly social calendar promotes employee wellbeing within GPG.

Pension
Our pension scheme is available to all who have completed their probation period.

Diversity and Inclusion
This year, we worked with DCU Access Program, BITC Placement Program and continued our existing programs with Youth Outreach and St.John of Gods.
Reports to: Head of Marketing & Digital
We are looking for a Marketing Executive to contribute to and implement the Marketing Strategy for Colourtrend. Reporting to the Head of Marketing and Digital, this dynamic role will involve day to day management of marketing activity, including campaign management, pr, influencer relations and working directly with our stockist network to provide support and create joint marketing opportunities. This role is an exciting opportunity for an ambitious and results driven Marketeer who is excited by challenge, is passionate about brand marketing and loves being part of a creative marketing team.
Role and Responsibilities
Contribute to the delivery of the company's Strategic Marketing Plan for the Colourtrend brand across all channels throughout Ireland and the UK.
Develop and implement joint marketing initiatives with our stockist partners and sales teams.
Develop and deliver a Marketing and Promotional plan to support the Retail channel of stores.
Work with our media agencies on media planning & media buying across a range of formats including print, radio, television.
Events – Coordinate the smooth running of events, in store and throughout our stockist network.
Develop and deliver a Marketing and Promotional plan to support the Retail channel of stores.
Liaison and co-ordinate all marketing campaigns with the internal support teams, e.g., Online Marketing Team, Graphic Design and Support Marketing.
Support the GPG Retail and Sales team on all marketing activity, including outreach to key external audience, Interior Designers, Professional Painters and Specifiers.
Point of contact for all external marketing, print and promotional agencies.
Management of instore POS, including overseeing installation, stand management and removals.
Liaise with the sales team on new store opening and merchandise requirements.
Point of contact for all influencer relations.
Daily response to customer marketing support material requests.
Research consumer needs, monitor market trends, identify, and propose potential marketing activities to invest in based on findings.
Regular customer marketing updates and reporting on campaign performance.
Knowledge Skills and Experience
3+ Years' Marketing experience
Knowledge of B2C marketing
Excellent copywriting skills and attention to detail
Experience managing external marketing agencies.
Flexible and agile approach
Ability to work cross functionally and manage stakeholders.
Excellent communication skills
Proven track record in a similar role.
GPG is committed to a workplace environment that promotes diversity and inclusion and
creates an open and inclusive culture where everyone feels valued
Location
This full time position based in GPG Head Office in Celbridge, Co. Kildare, with the option to work remotely two days per week in line with our Remote Working Policy.
Reports to: Head of Finance
As part of the GPG Finance Team, this role will work closely with the Head of Finance, the Heads
of Departments and the Finance/IT teams to manage the production and development of all
commercial finance reporting. Main objective is to analyse financial data, provide insights and
recommendations, and improve business performance.
Role and Responsibilities
Reporting
a) Develop and coordinate dashboards to track KPIs across the business.
b) Provide clear, comprehensive, and relevant management information within agreed
deadlines and particularly to alert management to significant trends or issues.
c) Provide regular overhead analysis to ensure that significant variances or trends are
highlighted and dealt with in a timely manner.
d) Provide input to the identification and correction of areas that require financial
improvement and contribute to driving financial awareness throughout the business.
e) Assist the Head of Finance in the development of the annual budget process and the stress
testing of the underlying assumptions.
f) Development of a robust cashflow reporting framework including accurate forecasting of
working capital requirements
Operations
a) Manage stock levels and ensure optimal inventory levels are maintained.
March 2023
b) Develop a detailed understanding of the manufacturing process identifying the make-up
of Finished Goods values and allowing identification of the key components of the gross
margin calculations.
c) Work closely with the Head of Retail in developing the KPIs for the retail business and
understanding the main drivers of retail performance.
d) Be a finance partner to all the commercial and operational departments of GPG and assist
them in the preparation of forecast reports, product costing, pricing analysis, contract
reviews, margin reporting and government support initiatives.
e) Provide support to all other company departments in preparing budgets & costings.
f) Support the finance team in month-end close activities.
IT & Systems
a) Develop a comprehensive understanding of all MIS in the business and how they can be
utilised to enhance the management reporting function.
b) Become a superuser of the business's ERP system to ensure accurate recording of
management information.
c) Assist in developing our Business Intelligence software and tailoring it to meet the
operational needs of the business.
Other
a) Collaborate with cross-functional teams to gather data, analyse trends, and provide
insights into business performance.
b) Monitor industry trends and provide recommendations to improve business
performance.
c) To assist the Head of Finance in the consideration of acquisition opportunities and the
completion of due diligence where necessary
d) Conduct retail analysis and provide insights into customer behaviour and buying
patterns.
Costs Management\Performance Measures\Reporting
a) Liaise with purchasing planner to ensure achievement of operational & financial targets.
b) Develop department performance measures. Compare with industry benchmarks and
strive to match Lean standards.
Continuous Improvement & Innovation
a) Foster a spirit of continuous improvement and innovation within department.
b) Work with other departments to develop innovative solutions to increase
quality\efficiency or meet customer needs.
c) Liaising with sales team on forecast accuracy
d) Plan for future growth of the business
e) Participating in projects within the business as they arise
Skills, Qualifications & Experience
– Bachelor's degree in finance, accounting, or related field.
– 3+ years of experience in financial planning and analysis, preferably in FMCG or
manufacturing.
– Strong analytical and problem-solving skills.
– Proficiency in Excel, financial modelling, and data analysis.
– Experience with ERP and financial reporting systems.
– Ability to work in a fast-paced environment and manage multiple priorities.
Behaviours & Competencies
a) Attention to detail with an analytical, problem solving and inquisitive nature.
b) Strong business acumen and a refined commercial sense
c) Ability to work independently using own initiative but also in a team environment.
d) Flexible and adaptable approach to tasks
e) Excellent analytical, organisational and administrative skills
f) Ability to interpret risks and opportunities within the business and proactively drive and
maximise profit opportunities.
g) Excellent communication and interpersonal skills (written & verbal) with the ability to adapt
to differing situations & audiences.
h) Ability to anticipate and provide alternatives and options to the business.
i) Ability to effectively manage projects.
Location
This full time position based in GPG Head Office in Celbridge, Co. Kildare, with the option to work remotely two days per week in line with our Remote Working Policy.
GPG is committed to a workplace environment that promotes diversity and inclusion and
creates an open and inclusive culture where everyone feels valued
Reports to: Warehouse & Logistics Manager
As part of the GPG Supply Chain Team, this role will work closely with the Dispatch, Finance, and Sales teams and will be responsible for all aspects of order and invoice entry.
RESPONSIBILITIES
Order Entry     
Taking phone; fax and email orders
Generate quotes
Accurate input of orders into ERP system
Ensure pricing is correct
Reports             
Print pick list for dispatch team
Print sales acknowledgements
Collect data, collate, and present back on supply chain trends
Sales Analysis when required
Other report generation when required
Invoicing /Credit Notes   
Generate invoices daily
Processing Credit Notes
Reconcile GPG invoice and credits
Other    
Respond to queries as required
Liaise with Dispatch for order related queries
Proactively suggest improvements to Supply Chain process
Undertake any other duties as requested by your line Manager.
SKILLS PROFILE
Qualifications/Experience
Experience working in a similar role
Strong Excel skills
Report generation skills
Strong data entry skills
Strong IT skills and the ability to learn new systems
Core Competencies
Attention to detail
The ability to build strong relationships
Good interpersonal skills
Have a strong sense of ownership and responsibility
Impeccable attention to detail
Ability to implement existing procedures in a positive manner
Location
This full time position based in GPG Head Office in Celbridge, Co. Kildare.
GPG is committed to a workplace environment that promotes diversity and inclusion and
creates an open and inclusive culture where everyone feels valued
Reports to Warehouse and Logistics Manager
RESPONSIBILITIES:
To pick, wrap, ship and deliver all stores products in line with store, production and customer requirements.
Job Specific:
Pick and complete sales orders, wrap deliveries, complete warehouse paperwork for each dispatch.
Use of PPT and Forklift to complete order
Unload, record and put away raw materials stocks and deliveries
Keep a clean and safe working warehouse
Communicate and co-operate with fellow staff members
Comply with company rules and standards of work
Processing all orders through our system for the following day deliveries
Assisting with tinting of paint
Assist with the checking of orders that have been invoiced out to ensure that the correct products are invoiced vs what the customer has ordered.
Assist in maintaining live stock levels and carrying out regular stock takes
Assist with all general warehouse duties as required by the Warehouse Manager
Input of dockets, goods in and out, through the system.
Ensure all Health and Safety standards are adhered to at all times in line with statutory legislation and
Company policy, addressing any safety concerns as they arise.
Ensure all company policies and procedures relating to security of company stock is strictly adhered to at all times.
Ensuring key materials have on time supply to Paint Plant & Paint filling areas
Receipt of deliveries & tankers
Maintenance of yard & Raw Material
Disposition of obsolete, defect, returned materials including external waste contractors
Maintenance of waste, compactors and skips
Maintenance of outside storage facilities
5S (Housekeeping)
Skills / Experience Desired:
Electric pallet truck and forklift truck experience.
High attention to detail
Excellent product knowledge
Experience in tinting processes
Overall knowledge of the paint tinting process
Knowledge and use of all equipment on site
Fully flexible with working hours
Person Specification
Team worker
Strong communicator
Good interpersonal skills / the ability to build strong relationships
Have the ability to implement existing procedures in a positive manner
Have a strong sense of ownership and responsibility
Must be prepared to work as part of a team and assist or carry out other duties during periods of high workload, sickness, holidays and emergencies
Undertake any other duties as requested by the Warehouse Manager.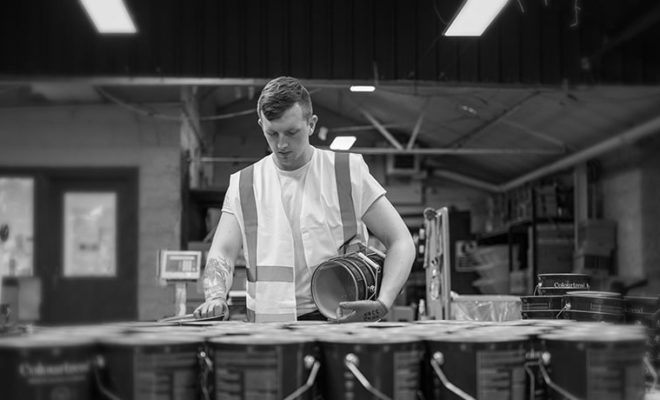 Want to work with us?
At GPG, we're always looking for talented individuals to join our team. If you're interested in joining our team, send us your CV today.