News Article- Our Online Waste Awareness Programme
At General Paints Group, we are committed to crafting paints that exist in perfect harmony with the world around us. Our paints are water-based and low VOC, meaning that our coatings contain a reduced amount of 'volatile organic compounds' that may be harmful to you and the environment. Our paints are formulated to the highest quality, giving you long-lasting finishes and vibrant colours that will stand the test of time. We are dedicated to minimising our effects on the environment without compromising on our high-quality standards.
To help our Colourtrend customers approach their painting projects in a more environmentally conscious manner, earlier this year we launched our online waste awareness programme. Featuring on Colourtend.ie, Colourtrend.co.uk and across our social platforms, we provided our Colourtrend customers with some guidance on how to approach a painting project in a more responsible and sustainable way.
Our guidance included our top tips for more accurately estimating the volume of paint required for a project. Our helpful infographic contained a step-by-step guide to help our customers reduce paint wastage associated with their project.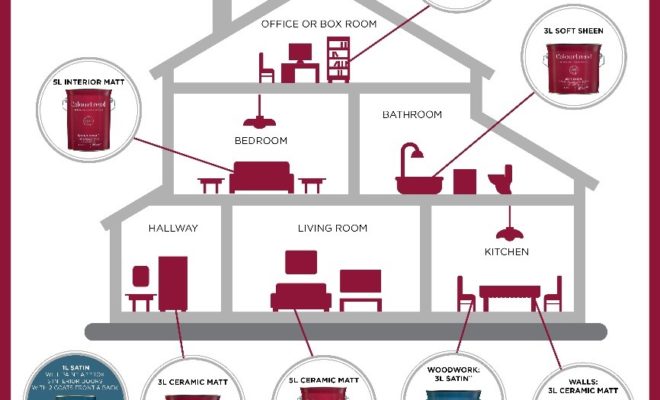 After taking the time to estimate paint requirements in advance of beginning a painting project, we can all continue to take steps throughout a painting project to reduce paint wastage. Some of our tips shared with our Colourtrend customers included:
Use a roller where possible to apply your paint. Using a roller will ensure that your paint is applied evenly, requiring you to use less paint to achieve the same coverage as brushing.
Top tip: Ensure your roller does not dry out while waiting for your coats to dry by placing the roller into an air-tight container. You can re-use the roller's original packaging to create an air-tight environment.
 Avoid over-thinning your paint resulting in unusable paint, we recommend thinning down your paint in small batches. All of our paints at GPG are water-based and can be thinned down by using up to 10% water.
Top tip: Do not thin down your paint by more than 10% water as doing so will negatively affect your paint's coverage and quality.
Ensure that you have correctly prepped and primed the surface you are painting to ensure a high-quality finish and avoid any application issues that could result in a wasted application of paint.
Top tip: It is good practice to apply primer to any bare, unpainted surface.
At GPG, we understand that sometimes leftover paint is unavoidable. We always suggest carefully storing your paint away so that it can be re-used at a later stage for touch-ups. Once stored correctly, leftover paint is perfectly fine to be used again. We suggest firmly re-placing the lid on to your paint container correctly and storing your paint away in an area that does not receive direct sunlight or is exposed to very hot or cold conditions.
It is important to note that if you do not want to store your paint away for re-use, leftover paint cannot be disposed of down your sink or drains and cannot be disposed of in regular bins. Similarly, you should not dispose of your dried or wet paint cans in regular landfill or recycling bins. For more information on the disposal of used paint cans, we suggest visiting visit www.mywaste.ie. For responsible disposal, we recommend checking in with your local recycling centre or county council for proper disposal advice specific to your area.
Reducing our environmental impact is a top priority for all at GPG and we know that this is really important for our customers too. Our online waste awareness programme has helped inform our customers of how to reduce the environmental impact of their painting project and how they can paint in a more responsible and sustainable way. Our customer service team is on hand to help you approach your Colourtrend or Curator painting project in an eco-friendly way, please get in touch with us via email at info@generalpaints.ie.